Pomer
Pomer
The sea is undoubtedly the main attraction in this corner of paradise. Its blue color hides the richness of flavors and aromas that it has so generously provided for thousands of years. The beauty of this bay and its benefits were noticed even by the ancient Romans, who named it Pomoerium and built their luxurious spas, villas, and port here.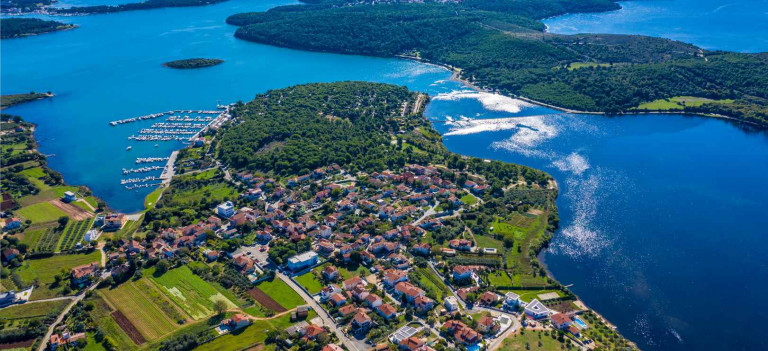 This old fishing village welcomes modern nomads who want to relive the old Mediterranean with its customs and beauty. Even today, delicious mussels are grown here, prepared according to old recipes, and seasoned with freshly picked herbs. Fish that has all the scents of the clean sea, served with golden olive oil and with wine evokes all the richness of nature. Because of its attractiveness, many sailors are always happy to return to the Pomer marina. For those with a true sporting spirit, Pomer offers various sports - windsurfing, volleyball, cycling, and many others. With friendly hosts, great food and wine, a gentle breeze and peace disturbed only by waves, Pomer is a place that is truly worth visiting and staying at.
History
The area of Pomer and its surroundings have a rich history dating back to prehistoric times. The first settlement was a fortified one located near Pomer, where huts were built on the site of what is now Pomer. During the Roman rule, the Aranum family named the settlement Pomoerium and developed luxurious amenities such as baths, villas, an aqueduct, and production facilities for oil, wine, and other products. After the fall of Rome, a large early Christian basilica was built on the same site. Several stone sarcophagi were also discovered in the area. In the 12th century, a Benedictine abbey was built, which was eventually abandoned in the 14th century. The location was known as the Fountain of St. John because of the fresh drinking water found on the shore.
Pomer fell under Venetian rule in 1149 and remained under it until the end of the 18th century. Wars and diseases significantly reduced the population. In the late 16th century, people moved to Pomer from Bologna and later from the Balkans. In the early 19th century, Pomer was briefly ruled by the French, but soon fell under Austria-Hungary, under whose rule it prospered. After the First World War, it became a part of Italy and was occupied by Germans during the Second World War. After the war ended, Pomer was liberated and became a part of Yugoslavia before finally becoming a part of Croatia in 1991.
Sightseeing
The parish church of the Visitation of Mary - from the 14th century, with a bronze crucifix from the 15th century and a statue of Our Lady from the 16th century, and a picture of the Visitation of Elizabeth from the 17th century.
Church of St. Flora - a Romanesque building with frescoes from the 15th century
Church of St. Foške - an ancient baroque altar, a Gothic statue, and two bell towers from the 15th and 16th centuries.
Church of St. Ivana - a Byzantine building with a valuable floor mosaic
The locality of St. Andrije - remains of Roman and early Christian graves
Ancient spas - remains of ancient luxury spas, villas, and docks