Banjole
Banjole
Banjole is known for traditional activities such as olive growing, viticulture, and fishing. The settlement is connected to the rest of Istria by modern roads. When you enter Banjole, you will feel the Mediterranean climate that surrounds you. The combination of nature and beautiful architecture is visible throughout the space.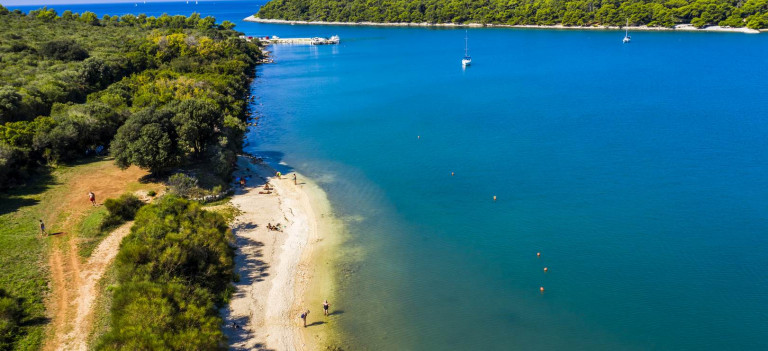 History
Banjole and the surrounding area have a rich and ancient history dating back to the Bronze Age. Archaeologists have found ancient graves on the Bumbište hill, including a bronze dagger that suggests the importance of the area in that period. During the Roman period, Banjole flourished as agriculture developed, and the area attracted many important people of the time. The remains of Roman villas were discovered in the bay of Paltana, and the Roman baths, which gave Banjole its name, were also found. In the Centinela valley, the remains of a Roman settlement were discovered, while in Rupice, ancient Roman quarries and fragments of capital, a sarcophagus, and an unfinished statue were uncovered.
During the Middle Ages, Banjole belonged to the Pomeranian area and was later given to the bishops of Pula by Emperor Corrado II. The area was then passed on to various noble families, including the Jonatasi and Castropola families. In the 15th century, the population of Banjole was attacked by the plague, leading to the death of most of its inhabitants, and the area became barren and neglected. The government confiscated the land and gave it to new noble families from Premantura in 1585.
Banjole faced several difficulties throughout history, including wars, robberies, and the rule of Italy. However, the area was liberated and became part of the former Yugoslavia and later Croatia in 1991. Despite these challenges, Banjole has maintained its cultural heritage and continues to attract visitors interested in its rich history.
Sightseeing
Paltana - remains of Roman baths from the 1st century
Rupice - former Roman quarries
Centinera - remains of a Roman settlement
Fraškerić Island - an islet whose seabed is ideal for divers due to its beautiful reefs and passages
Volme, Kanalić bay - remains of the church of St. Nicholas from the 7th century
Pomer - a beautiful small town near Banjol with a modern nautical center
Cape Kamenjak - nature park, with a beautiful 30 km long coast