Medulin
Medulin
Medulin is classified as one of the representatives of Istrian tourism and is one of the twenty most famous bathing places on the Adriatic coast. The dynamic development of Medulin is based on valuing the natural foundations and physiognomy of the tame landscape. Every visitor who comes to Medulin can find here a real oasis of peace, rich in the landscapes of this Mediterranean land, but at the same time, they can spend a very dynamic vacation full of various contents here. The Bay of Medulin is ideal for water sports activities, but you will also find a wide range of sports and recreational facilities on land.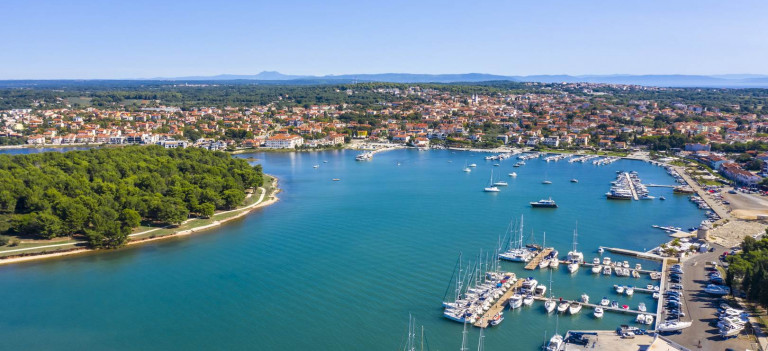 Medulin, ancient Mutila, is a small town with 1,700 inhabitants and a long, richly indented coast surrounded by a ring of islets. Today, Medulin is a well-known tourist center that, in addition to hotels and campsites, offers a large number of rooms and apartments in private accommodation. Everything is aimed at tourism. Medulin has a bank, post office, tourist clinic, flower shop, wine cellar, hair salon, numerous shops, jewelry stores, souvenir shops, market, and more. The pillar of tourism in Medulin is sports: tennis, football, mini golf, bocce, bocce, beach volleyball, and horse riding. There are windsurfing, diving, sailing, horse riding, and water skiing schools. There are also rental services for motor boats, canoes, pedal boats, scooters, bicycles, and motorcycles. Young people know Medulin for its popular nightclubs, and lovers of live music and all dance rhythms gather on numerous terraces. Medulin is also known for quality classical music concerts during the summer months, and forty restaurants are a real challenge for gourmets, be it modern, traditional, seafood, meat, or vegetarian cuisine.
The mild winters conditioned by the Mediterranean climate and rich sports infrastructure make Medulin one of the favorite centers for sports preparations and training throughout the year, so it is very often possible to meet the most famous Croatian and foreign representatives from the world of sports. The first tourist sparks appeared on the shores of Medulin Bay in the late 19th and early 20th centuries.
At that time, Medulin was treated in the pleasure and entertainment market as an accompanying part when sightseeing the city of Pula, but very quickly things began to change and Medulin received more and more attention. With the founding of the Society for the Beautification of Medulin, the forerunner of the first tourist organization, the first residential tourists appeared in the town.
Since then, tourism in Medulin has progressed by giant steps. The Medulin Tourist Association was founded in 1958, and in1968, the company Medulin Riviera was founded, and not long after that, in 1979, Medulin had an accommodation capacity for more than 15,000 people.