Medulin
Medulin
The town is easily recognized from afar by the two white bell towers of the Church of St. Agnes. Although it has a population of only 2,000 Medulin has all the needed features of a modern tourist resort: with its mild Mediterranean climate, clean sea and indented coastline it meets all the requirements of a perfect holiday destination.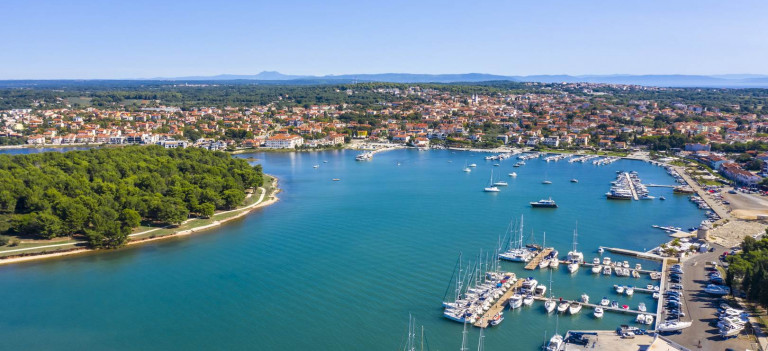 Ten kilometers south of Pula is the town of Medulin –a center of tourism, with superb Arenaturist Medulin camping sites, tourist resorts, mobile homes, and an amusement park.
The entire coastline of Medulin is easily reached, so that every guest can find an ideal place and his very own private beach.
The surrounding small islands are an inseparable part of Medulin's tourist offer. The area of Medulin also includes the nearby fishing towns of Premantura, Banjole and Pomer, as well as Pješčana Uvala. All these towns are focused on tourism by constantly enriching their tourist offer. 
Being orientated on the sea, this area has modern and well-equipped marinas – for all seafarers and their yachts and boats there is the ACI marina Pomer. Pomer is an idyllic fishing village, a perfect place to taste local delicacies surrounded by the beauty of untouched nature. 
History
The region of Medulin and its surrounding areas have a rich history dating back to prehistoric times. Over 100 million years ago, the area was inhabited by dinosaurs whose footprints can be found around Premantura and small islands near Medulin.
In the 2nd century BC, Medulin, known as Mutila, was one of the three Histrian towns alongside Nesactium and Faveria. The Romans conquered and destroyed these towns, and Mutila was renamed Medulin. The Romans recognized the natural beauty of the region and built their summer residences here, marking the beginning of "tourism" before the concept even existed.
The Roman aristocracy and members of imperial families created an ideal setting for leisure, rest, and enjoyment. The region of Pula, Brijuni, Medulin, Pomer, and Premantura became the site of the largest Roman residential complexes, and their remains are still visible today. Among them, the most impressive is the residential complex on the Vižula peninsula near Medulin, built in the 4th century for the exiled son of Emperor Constantine Crisp.
The natural beauty of the region and its historical significance have attracted visitors for centuries, with Medulin now a popular tourist destination.
Sightseeing
While touring Medulin's historical heritage, you shouldn't miss the Church of Our Lady of Health, which keeps valuable frescoes and Glagolitic graffiti from the 15th century, as well as the Parish Church of St. Agnes built in 1894, characteristic for its two 33-meter-high bell towers, which are a common motif on postcards of Medulin. Once a fishing village, today a modern tourist resort, Medulin offers a dynamic and activity-packed holiday. Everything is focused on tourism. The unique one kilometre long sandy beach Bijeca attracts families with younger children. There is plenty of entertainment and fun for the younger generation. Entertainment possibilities range from discotheques to dance terraces open until the early morning hours. Some of the many cultural events include programs of Medulin's Concert Summer with classical concerts in churches and town squares. Medulin's central square known as "placa" is the venue for folk festivals, fisherman's festivals, concerts and handicraft fairs on warm summer nights, or you can simply enjoy a romantic walk along the picturesque riviera. In the vicinity of Medulin is the small fishing town of Premantura and the protected landscape of Cape Kamenjak, the southernmost point of Istria where you become one with nature. Magical views, white rocky beaches and nearly 500 plant species testify to the great biological diversity and ecologically preserved area. Special features of its plant life are the several orchid species. This is a paradise for campers and wind surfers, as well as all lovers of active holidays. South of Cape Kamenjak is the small island of Porer with lighthouse and to the west is Banjole. In Banjole Arenaturist offers accommodation in the well-known camp Arena Indije situated along the bay, among pine trees where families with children, divers, hedonists and all those who respect nature will surely experience a true holiday. Medulin, Premantura and Banjole, towns with a long fishing tradition, offer delicious homemade specialties - spider crab salad, black risotto or fish stew brodetto. If you prefer a meat menu then the perfect choice is Istrian prosciutto, if you like pasta, then try fuži pasta with veal sauce žgvacet, or perhaps you'd like aromatic specialties with world-famous truffles.
Are you seeking adventure? Then set off towards one of the small islands of the Medulin archipelago - Ceja, Levan or Bodulaš. Go fishing or dive into the enchanting underwater world. Perhaps you would like to see it all from above? Then the perfect choice for you is a panoramic flight by sports plane from the nearby sports airport. Don't miss the old windmills by the sea, archaeological site Vižula with remains of Roman villas, dinosaurs' footprints on Fenoliga island or a walk to Medulin's pond with ducks.
There is a wide selection and its up to you to choose. We recommend the Medulin Riviera! Let Arenaturist help you find the perfect Medulin resort.