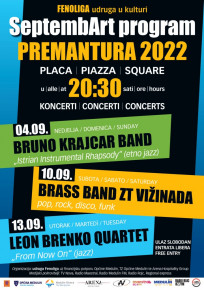 SeptembArt
From sunday, september 4 to tuesday, september 13, 2022, "fenoliga udruga u kulturi" organizes a concert program in premantura as part of its traditional project "premankultura (septembart)".

The program consists of 3 concerts:

09/04/2022. Sunday

"bruno krajcar band" will perform instrumental music from his latest album "istarska instrumentalna rhapsodija", which is a tribute to ivan matetic ronjgov and the istrian scale, and this year he was nominated for porin.

10.09.2022. Saturday

"brass band zt vizinada", an orchestra of 35 members, has moved a little away from the typical dimensions of brass music and brings a newer, fiercer, more dancing touch to the world of brass music, and will perform

from pop, rock, disco, funk to today's musical hits.

13.09.2022. Tuesday

the leon brenko quartet will perform compositions from their album "od sada dale" on which i

the composition "say it again", which in just two months became the song of the year on the prestigious world jazz portal "all about jazz", where it was the most listened to song in 2021 and "top recommended song".

All concerts start at 8:30 p. M. , and admission is free. In case of rain, concerts are postponed.

The event was made possible with financial resources by the municipality of medulin, tz of the municipality of medulin and arena hospitality group.