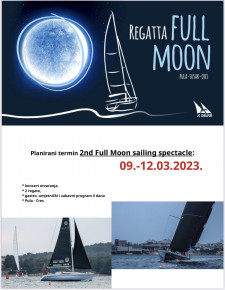 SAILING SPECTACLE 2ND FULL MOON REGATTA PULA - CRES
Our dear friends, sailors, visitors!
Inspired by the same enthusiasm as the 1st edition, we are happily planning the 2nd edition of the Full Moon sailing spectacle.
We invite you to magnify the program we are preparing by coming as a sailor or visitor, to be the wind that fills the sails and inspires us to go further and further together with the spectacle that will continue from year to year in an increasingly numerous and pompous edition.
children and adults
ORGANIZER - JK DELFIN
JK Delfin is a non-profit association, a sailing club from Pula, which gathers enthusiastic cruiser sailors, mainly from Croatia and Slovenia, children and adults, and in smaller numbers also sailors from Germany, Italy and England.
In the club, we count over 100 active sailing athletes, around 200 supporters and 50+ serious competitive owners' boats, team representatives at regattas, which puts us at the very top of the clubs in Croatia that gather cruisers.
The largest ship in the club is the 26m MAXI sailboat under the German flag. Our sailors compete in regattas all over the Adriatic and the Mediterranean.
In 2022 we organized 3 of the largest cruiser regattas in the northern Adriatic, which take place according to the HJS and WS Rules, of which the Full Moon spectacle opened the regatta season and attracted considerable attention from the media and supporters.
CO-ORGANIZER, CRES - JK REFUL, CRES