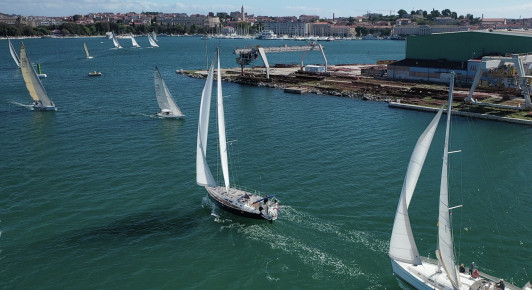 Pula Sailing week - 58. Pulska regata
From 4 to 9 May, as part of the celebration of the Pula City Day, an international sports and entertainment program Pula Sailing week will be held.
This year's sports and competition program brings three sailing classes to the port of Pula: a show regatta for the youngest Optimist classes, more than 50 regatta and family cruisers from Croatia, Slovenia, Italy and Austria and the largest ships of the North Adriatic MAXI cruisers such as Portopiccolo Prosecco Doc. Cleansport.
"With MAXI Cruisers in Pula come eight top Michelin-starred Chefs, who will participate in the big MAXI ON COOKING CHALENGE SHOW on Friday, May 6, 2022, accompanied by David Skoko and the Chief Executive of the Grand Hotel Brioni."
Arena Hospitality Group, together with the partners of the City of Pula and the Tourist Board of the City of Pula, is for the second time the proud host of this international sailing spectacle. MAXI ON 2022 marks the opening of the most luxurious hotel, the Grand Hotel Brioni.
Pula Sailing Week: Regatta announcement, Program
Jedriličarski klub Uljanik
Verudela 9, 52100 Pula, Hrvatska
Tel: +385 (0) +385 97 66266506
e-mail: info@jku.hr
web: www. jku.hr
Facebook: https://www.facebook.com/jkuljanik 
Instagram: https://www.instagram.com/jkuljanik/