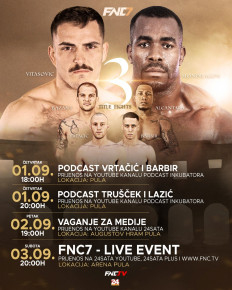 FNC 7 ARENA PULA | CROATIA
brings an evening of free fighting in the Pula Arena, which will be written down in the history of world MMA. Six previous PPVs and eight events of the organization took place all over Croatia and only paved the way for the unprecedented spectacle that will take place in the ancient building built between 27 BC. Kr. and in the 68th year.
The fastest growing MMA organization in Europe promises a dynamic card, and the 'FNC 7' event brings three title fights.
The heavyweight title will be at stake because the Brazilian Geronimo dos Santos (41, 43-21-1) will face the best heavyweight in the Adriatic, the Pula fighter Ivan Vitasović (30, 10-5-1). Another fighter from Pula, Daniel Bažant (31, 6-3) will fight against Iuri Alcantara (41, 35-10) for the featherweight title, and two undefeated Croatians, Đani Barbir (23, 4-0) against Andi Vrtačić (27, 2-0) for the middleweight title.