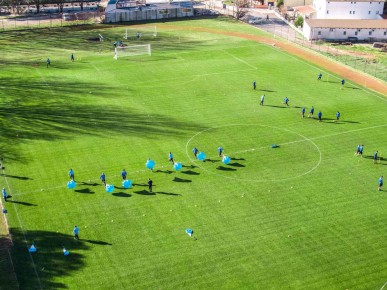 Medulin Cup 2019.
International football tournament Cup in Medulin (03.02.2019 - 10.02.2019)
Teams:
Group (1) Ceja:
HŠK ZRINJSKI
NK OSIJEK 2
GOŠK GABELA
Group (2) Finera:
FK KRUPA
SK DYNAMO Č. BUDĚJOVICE a.s.
HNK ŠIBENIK
In the period from February 3rd to February 10th, 2019, Medulin Sport Center will host the International Soccer Tournament "Medulin Cup 2019". The organizer of the Medulin Cup tournament is the tourist community of the Medulin, together with Arena Hospitality Group. Park Plaza Belvedere Medulin will be the host of all-tournament teams. In the invitational tournament, 6 clubs from the region will be invited. The winner of the group is the club that wins the most points. 
 DAY 

 DATE 

 TIME 

 FIELD

 MATCH            

 RESULT 

 SUNDAY
 03.02.2019
 11:00
 
 HŠK ZRINJSKI - GOŠK GABELA
 2
 0
 SUNDAY
 03.02.2019
 15:00
 
 FK KRUPA - HŠK ŠIBENIK
 0
 2
 MONDAY
 FREE DAY
 
 
 FREE DAY
 
 
 TUESDAY
 05.02.2019
 11:00
 
 NK OSIJEK 2 - GOŠK GABELA
 3
 1
 TUESDAY
 05.02.2019
 15:00
 
 SK DYNAMO Č. BUDĚJOVICE a.s. - HNK ŠIBENIK
 2
 0
 WEDNESDAY
 06.02.2019
 
 
 FREE DAY
 
 
 THURSDAY
 07.02.2019
 11:00
 
 HŠK ZRINJSKI - NK OSIJEK 2
 1
 0
 THURSDAY
 07.02.2019
 15:00
 
 FK KRUPA - SK DYNAMO Č. BUDĚJOVICE a.s.
 0
 1
 FRIDAY
 FREE DAY
 
 
 FREE DAY
 
 
 SATURDAY
 09.02.2019
 11:00
 
 FK KRUPA - NK OSIJEK 2
 2
 0
 SATURDAY
 09.02.2019
 11:00
 
 HŠK ŠIBENIK - GOŠK GABELA
 2
 0
 SUNDAY
 10.02.2019
 11:00 1st
 
 HŠK ZRINJSKI - SK DYNAMO Č. BUDĚJOVICE a.s.
 0
 2